Upgrade to One of Our Beautiful Designs for Your
Trade or Service Websites
We help you with the design of a website for your business from the ground up.
Here are some examples of service based businesses we help: restaurants & cafes, dentists, doctor surgeries, chiropractic practices, health, massage therapist, etc.
Under trades we build websites for: HVAC (heating and air-con), electrical, builders, roofers, plumbing, tilers, painters, earth moving companies, tree loppers, roof restoration contractors, etc
PS: If your business category is not listed below please reach out and we can help you.
What makes a good website design?
Here are 7 major points to consider:
Fast loading speed for site
Brand colors are shown through the site correctly
Call to action buttons are placed strategically on the page. Especially above the fold.
Clear navigation system to help visitors to find information they need quickly. Clear drop down menus.
Your phone number visible clearly
A contact page on the site to collect visitor information
Fast loading graphics

Roofers WordPress Theme-1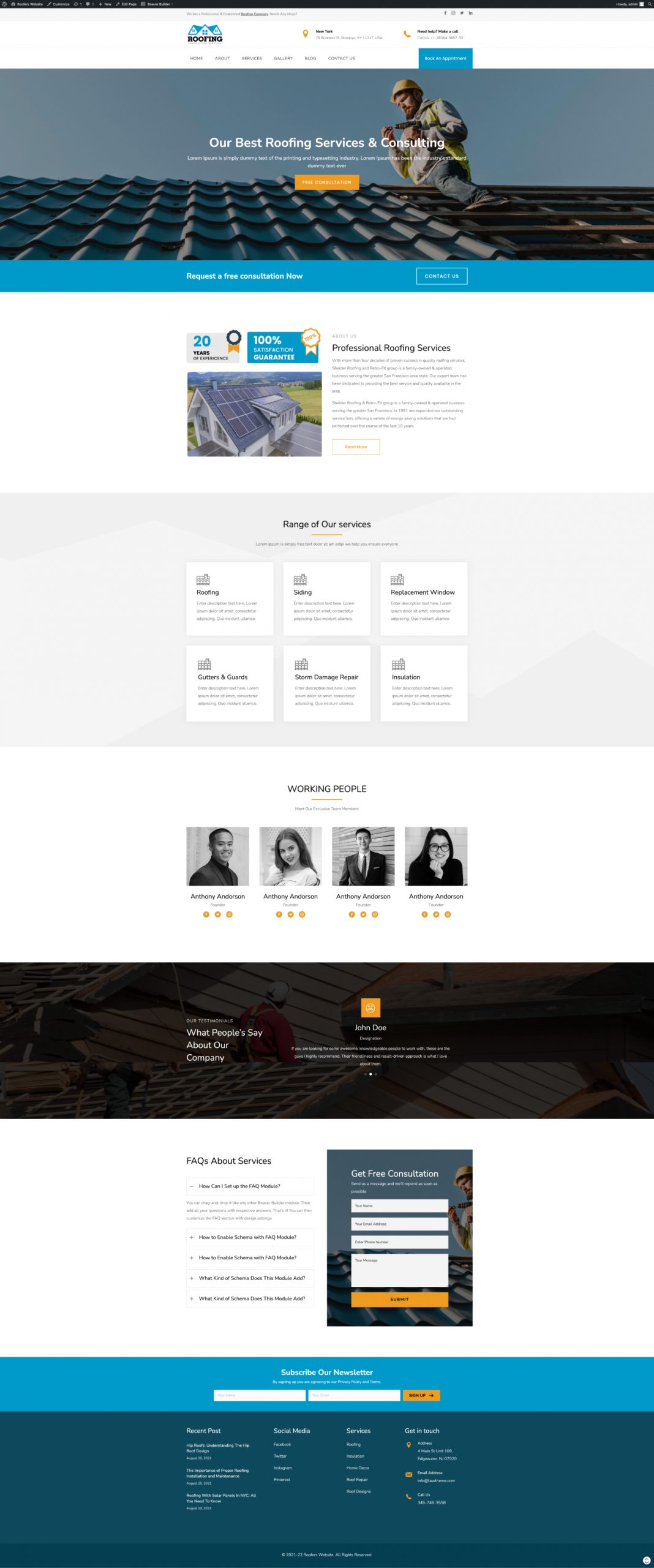 Roofers WordPress Theme-2

Roofers WordPress Theme-3
Professional WordPress Developers Brisbane
We will help you build your website from ground up for the world wide web.
This all starts with getting to know your company and what you want to achieve.
We will then work with you to create the brand you want people to know you by.
We will discuss the following:
colors,
font,
website theme and
what tag line your website will have.
Once we have that done we will start to look at what web content you want on your site. Do you have your own copy or want us to do the content writing for you?
Next we will begin building your website. This is where we implement what we discussed previously into your website.
All content (writing and images) will be optimized for local search.
We will add the relevant plugins. If any of the plugins such as Rank Math SEO is to be installed we will consult you before we do so. As this is a paid service.
You will be given opportunities to give us feedback as the site gets done. Its similar to a house being built. We want you to be happy with the website you will get.
We are here to help build you awesome sites.
Local website companies: Call today for best Web Design Services at leading Website & SEO Agency in Brisbane: 0422-442-029.
What Makes A Good Website Design
Cloud SEO Marketing focuses on the trade as well as the services industry. We know what your clients want as we only work with air-conditioning, electrical, roofing, plumbing and gas, building, dentists, chiropractic clinics, restaurants and takeaways industries. This knowledge helps our clients (you) get quality visitors to your website each and every month.
Using our websites and SEO agency we will help you grow a minimum of 10% each month in quality leads that call your business each month.
How Much Does It Cost To Design A Website?
The cost of website designe and implementation of a website for your business will start from $2,500+gst.
This will take into account that you will provide the content and branding. Branding is about the logo that you want on your site. We will use the colors in your logo to work out the colors of title tags, buttons, links etc. You will get 10 pages for this setup. If additional pages are required we will quote accordingly. In case you are able to provide the web copy don't worry we can provide this service as we have access to copywriters. Alternatively you can hire someone on Odesk to assist you.